FOR HEDGE FUND, PRIVATE EQUITY AND BOUTIQUE MANAGERS
OUR FREE MARKETING GUIDE
Creating Presentations and Pitch Books that Matter
This free guide outlines the approach we follow to create communications that help fund managers: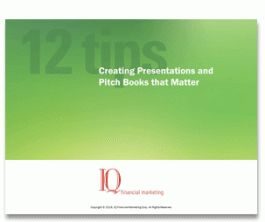 Respond effectively at each touch-point with prospective investors.
Differentiate their fund and firm from the competition.
Gain a competitive advantage in both the high-net-worth and institutional markets.
OUR COMPLIMENTARY MARKETING AUDIT
Get Objective Feedback from Marketing Experts
This is an opportunity to have our marketing team:
Review your current marketing materials.
Give you objective feedback.
Recommend steps to make your marketing communications more compelling and competitive.
All without any charge or obligation.
To request our free marketing guide or audit, complete and submit the form below or call Nancy Dennis at 212.671.1206.